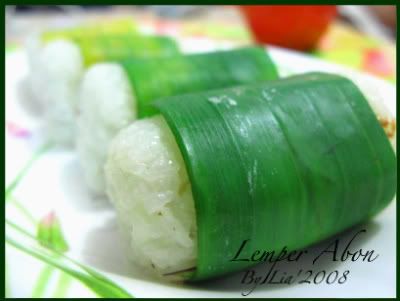 I brought banana leaves couple days ago, its has started yellow colour and i have to use immidiately. As u know banana leaves quiet expensive here and i don't wanna throw it ;) I was drolled over of Ayinda's lemper and here is her lemper version. The only thing i did not make the filling sama as her, i used abon for substitute since i have 2 kg abon at home :D (its given from my mother when she visited me last time)
source: ayinda's kitchen

-glutinous rice "ketan" 500 gr (soaked in water min 2 hour or overnight)
-coconut milk 400 ml
-salt as required
-banana leaves for wrap

Filling: ( i used abon for substituted)
-mince chicken 400 gr
-lime leaves 1
-bay leaves 1
-150 ml coconut milk
-little oil

grind to paste:
-onion 3
-garlic 2
-kemiri 2 (candle nuts)
-coriander pow 1 tsp

For filling: heat oil in the pan then saute onion paste until fragrant, add bay leaves, lime leaves and mince chicken. finally add coconut mil and salt. cook until chicken has change colour and water absorb.

For glutinous rice:
-wash and drain after soaked in the water
-steam for 15 min
-then cooked with coconut mik until water has been absorb
-add salt and mix well
-steam again for another 30 min

In the end:
-take banana leaves and put 3 spoon glutinous rice and put filling in the center
-rolled it until oval shape
-repeat until finish

note: selamat menikmati! bon appetite !