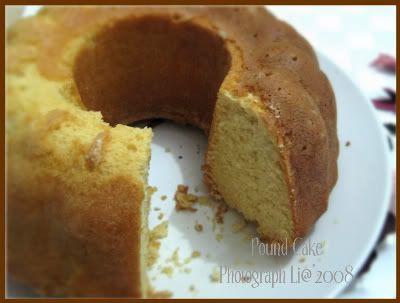 source: recipezaar
2 cups unsifted cake flour ( i used all purpose flour)
1 teaspoon baking powder
1/2 teaspoon salt
1 cup unsalted butter at room temperature
1 2/3 cups sugar
5 large egg, at room temperature
2 teaspoons mocha paste
Preheat oven to 325* (F).
Spread solid shortening on bottom and sides of 9x5x3 inch loaf pan, or 9-inch tube pan.
Dust evenly with flour; tap out excess.
Set prepared pan aside.
Sift together flour, salt, and baking powder.
In a mixing bowl, beat butter until soft and fluffy.
Gradually add sugar and beat until very light and creamy.
Add the eggs, one at a time, beating well after each addition.
Beat in mocha paste
By hand or on low speed, gradually stir in flour mixture-- blend well.
Pour batter into prepared pan and bake in preheated oven for 1 hour and 15-20 minutes for loaf pan (40-45 mins. for tube pan), or until toothpick comes out clean.
Cool the cake in its pan on a wire rack for 20 minutes.
Slide a knife around the edges to loosen the cake from pan.
Remove cake from pan, flip up-right, and cool completely on wire rack.