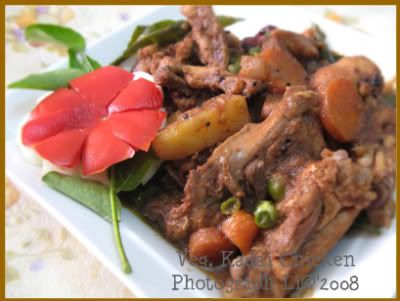 I had a day off from kitchen yesterday, yipiee finally sayangku cooked for our Friday brunch. Totally I'm not interfering on cooking, I have just help to cut and clean all vessels after finished. He said he will cooked something special, chicken kadai with vegetables and Yogurt curry. Yeah its real Indian food because cooked by Indian hehehhehe
He prepared two main dish, chicken kadai with vegetables and yogurt curry. Special yogurt curry only he could make perfect. Frankly I tried many times and was not successful. Yogurt curry needs extra attention, do not leave to boiled and we have to stir frequently with very low flame, otherwise yogurt has broken.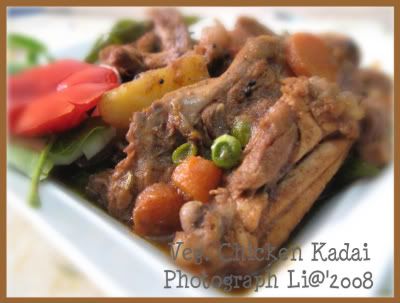 Chicken kadai it's his version, he added some vegetables to increase the flavors and to get thick gravy. I can say both curries were fabulous! We enjoy our Friday brunch with a great menu and off course it's really pleasant for me ;)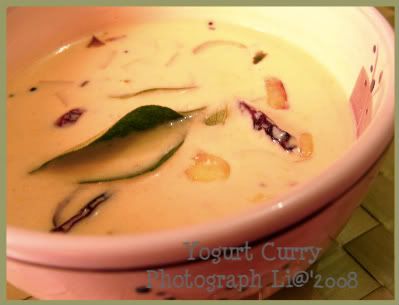 Chicken kadai:
Chicken whole body 1 kg, cut into pieces, carrot 1, green peas 1/4 cup, potato 1, tomato 2 chopped.
4 big size onion sliced, ginger garlic paste 2 tsp, 2 tsp garam masala powder, 4 whole red chily, 2 tsp kashmiri chili powder, 2 tsp coriander powder, kashori methi powder 1 tsp (optional), black papper 1tsp, spring of curry leaves, salt as required.
Direction:
Heat oil or ghee in kadai or pan then fry the onion until fragrant, add garlic ginger paste and saute for a minute
Add choped tomato and saute, then add the seasoning mix well.
Add chicken pieces and water as required then closed kadai and let chicken half cooked
Finally add potato, carrot and green peas, continues cooking until chicken and vegetables get cooked
Sprinkle garam masala over the curries and curry leaves
Once gravy became thick off the flame
Served with steam basmati rice
Yogurt curry
yogurt 1/2 litre, onion big size 1, garlic 2 nos choped, cumin seed 1/4 tsp, turmeric powder 1/2 tsp, ginger choped 1/2 tsp, green chili 5 split into two, salt, curry leaves one spring, mustard seed, and little water
Direction:
Blend yogurt and litle water for 1 min and keep a side
Heat litle oil and add mustard seed then fry onion, until brown colour
Add green chili, curry leaves and salt stir again for a min
Off the flame and add yogurt paste
Keep stiring yogurt and don't let it boil with very low flame
Serve hot or cold with rice