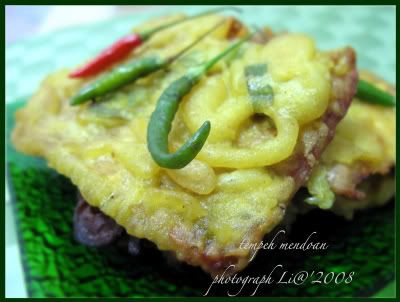 Tempeh= fermented soya beans, traditional Indonesiaan food rich in protein and calsium. To know more about tempeh klik
http://en.wikibooks.org/wiki/Cookbook:Tempeh
One of my favorite tempeh was mendoan, fry tempeh coated with flour ;) Iam enjoyed very much with bird eye chili.
source: my mother
tempeh 250 gr, slice wide and thin
all purpose flour 100 gr
garlic paste 1 tsp
candle nuts (kemiri) 2 crushed
turmeric powder 1/2 tsp
salt
water as required
spring onion
oil for frying
Mix water and flour to make thick batter, add all ingiderent and stir well. Coat tempeh into batter and deep fry until golden colour. Serve while still hot with eye bird chili or hot sauce.