It is a traditional meal made using mutton (lamb) or chicken for Hyderabadi. The Hyderabadi Biryani is named as it is seen mainly in the city of Hyderabad, India. Its common dish served during festival or any celebration in India.

The Dum Biryani is prepared with layered meat and rice then
sealing the vessel with a layer of dough and cooked on dum (steaming over the coal) Its accompanied with Raita (yogurt)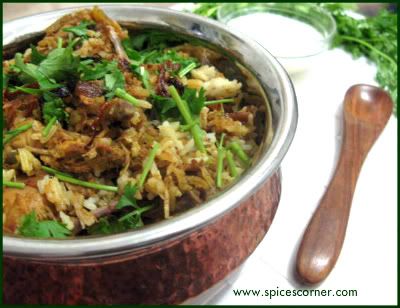 Marinate Ingredients:
1 kg chicken (cut into medium pieces and remove the skin)
1 cup curd (yogurt)
1 tsp chilli powder or to taste
¼ tsp turmeric powder
Salt to taste
Other Ingredients:

500g basmati rice
1 onion (finely chopped)
3 tbsp ghee / oil
2 tsp ginger garlic paste
50 gr mix biryani masala
2 bay leaf
2 cardamoms
2 cloves
small stick cinnamon
Garnishing:

few cashewnuts (optional)
handful of coriander leaves (roughly chopped)
Fry onion
Direction:

1.Marinate the chicken with marinated ingredients for 1 hour.
2.Cook the rice with enough salt,bay leaves and cardamon with water until half done
Heat ghee for few mins.
3.Add onions and saute till the onions become transulent and fragrant
4.Add ginger garlic paste and saut'e till the raw smell disappears add cinnamon stick and cloves, then in the end add marinated chicken
5. Combine till the curd is absorbed, add enough water and close the lid
6. Cook on medium flame till the chicken pieces are tender or pressure cooker for 1 vesel..
7. Remove from flame and divide the gravy into 2 equal portions and keep aside.
Divide the cooked rice into 2 portions.
8. Place half of cooked rice in a heavy bottomed vessel.
9.Spread one portion of the chicken gravy and sprinkle coriander and fry onion.
10. Do the samee for remaining rice, chicken gravy, coriander and fry onion.
Close with a tight lid and cook on low flame for 30 mins.
11.Serve hot with yogurt raita