Actually tempeh crackers available in Asian store here, but i don't like the taste, its sweet instead of savory. Yes for me tempeh crackers should not be sweet but savory. Thats way i made it. Since tempeh was easy here so i prepared alot tempeh crackers and kept in the air container. I guess it will last for 2 weeks or even more. Yummy!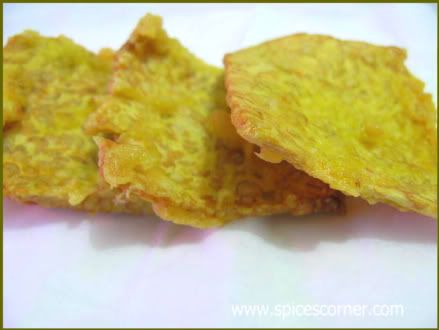 Ingiderents:
-tempe(h) 250 gr, slice thin 1/2 cm width
-rice powder 50 gr
-tapioka flour 2 spoon
-coriander pow 1/2 tsp
-turmeric pow 1/4 tsp
-salt as required
-lime leaves slice 1 tsp ( i dont use)
-kapur sirih 1/8 tsp *sorry i dont know in english*
-garlic crushed 1 tsp
-water as required
-oil for frying
mix rice powder and tapioka pow with water until medium consitency, mix well to get smooth batter, add salt and other ingidirents. Deep tempe into batter and deep fry until golden colour.
Drain from excess oil and let it cool, store in air tight jar.