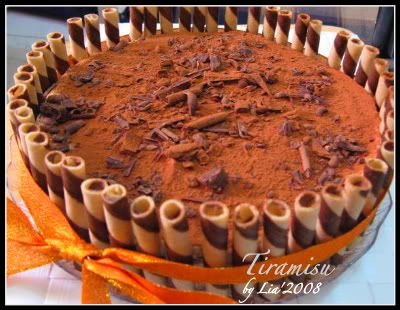 To my all dear friends, Im sorry not able blog walking recently, due many activities and i have to prepare for my exam (wish me luck). Iam really having no time to visit you one by one, i promise when everything has finished i will be back again to visit ur blog.
Tirimisu i guess everybody love it, yups neither do I. I made this tiramisu yesterday, I choosed eggless tiramisu, found the recipe from heavenlytiramisu.com. I made some adjustment in ingiderents and here is my version. One thing i can say this tiramisu is heavenly in your mouth :D
Ingredients
· KRAFT - PHILADELPHIA CREAM CHEESE - 500gms
· PUCK -WIPPED CREAM- 1-1/2 cups
· POWDERED SUGAR- 3/4 cup
· STRONG COFFEE/ Expresso 2 cup
· LADY FINGERS, crisp and dry 1pkt (24pc)
· COCOA POWDER, unsweetened, 1-1/2 tablespoons
Directions
1. Make 2 cup black coffee with 6 tea spoon coffee powder and allow to cool.
2. Mix 1.5 cup whipp cream at high speed, 4-5 minutes till becomes a thick foam and transfer to bowel and keep in fridge.
3. Put ¾ cup powder suger + cream cheese 500gm + 2 table spoon cool coffee in mixing bowel and beat with mixerspeed at medium for 1 minute (not to over beat)
4. Mix whipp cream (from fridge) to the above mix and beat again with mixer for 1 minute, and keep aside.
5. Put coffee in a bowel, dip the ladies finger in coffee (just wet) and spread down the baking spring pan. Spread ½ qty of mix (4) in a layer of 1cm thick spread with spoon.
6. Again put 1 layer of ladies finger diped in coffee and cover it with mix (4).
7. Cover it with polythene foil or aluminium foil.
8. Keep in fridge for 24 hours.
9. Remove from the pan and dust with coco powder & decorate with grated choclate