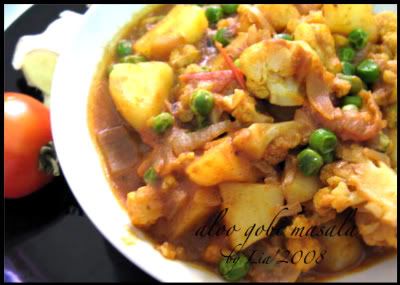 Indian vegetarian recipe, made of spiced potato and cauliflower. Its very simple to prepapare and one of my hubby's favorite, serve with paratha or chapatis :)
Cauliflower 1, cut into pieces, boiled
Potato ( medium size) 2, boiled peel and cut into cubes
Onions finely chopped 1
Tomato finely chopped 1
Green peas 1/4 cup
Ginger paste 1/2 tsp.
Garlic paste 1/2 tsp.
Thinly sliced Green Chilli 3
Cumin powder 1 tsp.
Red chilli powder 1 tsp.
Turmeric Powder 1/4 tsp.
Garam masala powder 1 tsp.
Coriander powder 1 tsp.
Vegetable oil
Salt to taste
Chopped green coriander leaves for garnishing ( i dont use it)
Method:
1. Cut cauliflower and potato into medium sized cubes and thoroughly wash it.
2. Heat oil in a frying pan / kadai. Add green chilli, ginger garlic and stir for few seconds.
3. Add chopped onions and fry over medium heat until light golden brown. Add chopped tomato and green peas. Cook until tender.
4. Add red chilli powder, cumin powder, turmeric powder, dry coriander powder, garam masala and salt. Mix well.
5. Add cauliflower and potato and stir. Saute for 5 minutes. Cover the pan / kadhai and cook over medium heat until tender. Ocassionally stir it to prevent sticking to the bottom.
Garnish with coriander leaves and serve hot.