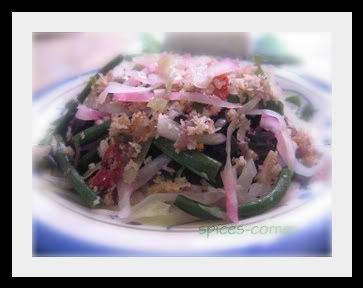 This is one of famous dish from Bali, mixed vegetables with coconut dressing
Ingredients:
100 g cabbage
100 g spinach
100 g long beans, cut
100 g beansprouts, blanched
1 large red chili, sliced
2 tablespoon fried shallots
Dressing:
100 gr grated coconut, steam or fry without oil
2 tablespoon fried shallots
2 tablespoons sliced garlic cloves
3 large red chili, seeded and sliced
2 teaspoon fried bird's-eye chilies
3 fragrant lime leaves, very finely sliced
4 cm (1 ½ in) kencur, peeled and chopped
¼ teaspoon salt
½ teaspoon white sugar
1 tablespoon oil
salt, pepper and lime juice to taste
Directions:
Steam separately all the vegetables and arrange in mixing bowl.
For the dressing, combine all ingredients and mix well in separate bowl. Mix the dressing thoroughly with the vegetables, season to taste with salt, pepper and lime juice.
Serve immdiately with steam rice