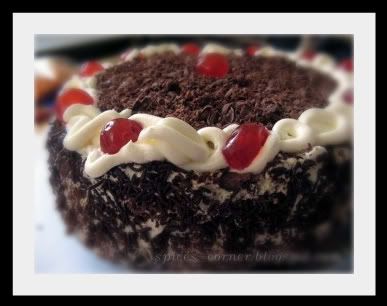 Kue ini aku bikin atas permintaan dr abang, sebenernya aku ga pede sama sekali bikinin cake yang mau dibawa kekantor dan dibagi ketemen temen terdeket beliau, akhirnya dengan segala keberanian ce ilehh bikin juga deh cake ini. walaupunn hasilnya kurang okeh maklum amateur tapi rasanya enak lho "promosi". Gara gara kehabisan coklat parut makanya aku campur dengan meises untuk bagian luarnya, untung aja masih punya sisa stok mudik hihihihi (pdhal ditoko indonesia sini juga ada) :p


Rich and chocolaty cake with blueberry and whiped cream filing. Decorated with a dazzling layer of cherry topping and drizzled chocolate, this is best chocolate lover cake for birthday celebration. Special made for sayangku on his special day. Happy many returns of the day sayangku, may u have always good health, long life and God bless us.
source: all recipe
INGREDIENTS
1 2/3 cups all-purpose flour
2/3 cup unsweetened cocoa powder
1 1/2 teaspoons baking soda
1 teaspoon salt
1/2 cup shortening
1 1/2 cups white sugar
2 eggs
1 teaspoon vanilla extract
1 1/2 cups buttermilk
1/2 cup kirschwasser
1/2 cup butter
3 1/2 cups confectioners' sugar
1 pinch salt
1 teaspoon strong brewed coffee
2 (14 ounce) cans pitted Bing cherries, drained
2 cups heavy whipping cream
1/2 teaspoon vanilla extract
1 tablespoon rum
1 (1 ounce) square semisweet chocolate
DIRECTIONS
Preheat oven to 350 degrees F (175 degrees C). Line the bottoms of two 8 inch round pans with parchment paper circles. Sift together flour, cocoa, baking soda and 1 teaspoon salt. Set aside.
Cream shortening and sugar until light and fluffy. Beat in eggs and vanilla. Beat in flour mixture, alternating with buttermilk, until combined. Pour into 2 round 8 inch pans.
Bake at 350 degrees F (175 degrees C) for 35 to 40 minutes, or until a toothpick inserted into the cake comes out clean. Cool completely. Remove paper from the cakes. Cut each layer in half, horizontally, making 2 layers total. Sprinkle layers with the 1/2 cup rum
In a medium bowl, cream the butter until light and fluffy. Add confectioners sugar, pinch of salt, beat until smooth. Spread first layer of cake with 1/3 of the filling. Top with 1/3 of the cherries. Repeat with the remaining layers.
In a separate bowl, whip the cream to stiff peaks. Beat in 1/2 teaspoon vanilla and 1 tablespoon rum. Frost top and sides of cake. Sprinkle with chocolate curls made by using a potato peeler on semisweet baking chocolate. decorate with red chery