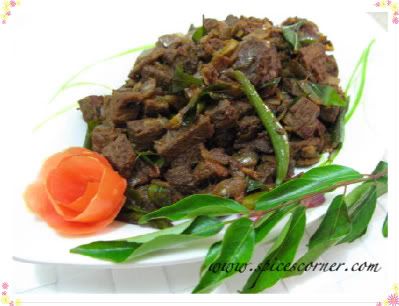 An tradisional and delicious dish in Kerala, state of India. Its Common served as snack when friend or relatives visit. Or as main dish served with appam, idli or chapati. Specially i love the fragrant of the beef fry. This is the second time i made beef fry, bit more spicy than before. I added more blackpapper and was extremely hot :D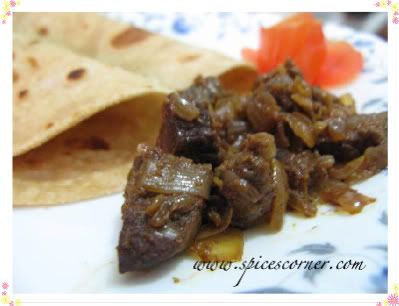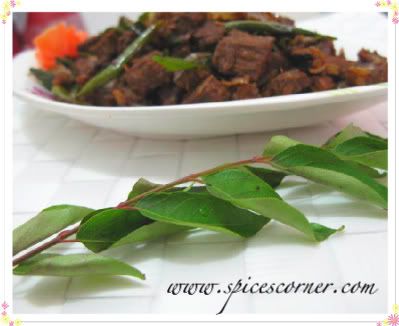 Source: IndianFoodabout.com
Ingredients:
1 kg beef cut into 2"-long, 1-thick strips
3 large onions sliced very thin
2 large tomatoes chopped fine
2 tbsps ginger paste
2 tbsps garlic paste
2-3 green chillies
3 tbsps coriander seeds
4 tbsps fennel seeds
5 cloves
Seeds of 6 green cardamom
1" stick of cinnamon
15 black peppercorns
For tempering: 1 large onion chopped fine
50 curry leaves
1 cup fresh coconut cut into 1"- long, thin slivers
1 tbsp mustard seeds
4 tbsps sunflower cooking oil
Preparation:
Heat a flat pan on a medium flame, Put the fennel, coriander seeds, cloves, peppercorns, cardamom seeds and cinnamon on the pan. Roast, stirring often till the spices begin to get slightly darker and give off their aroma. Turn off fire. Allow to cool slightly.
Grind the above roasted spices into a coarse powder in a clean, dry coffee grinder.
Put the meat, sliced onions, green chillies, tomatoes, ginger and garlic pastes and ground spices into a large mixing bowl. Mix well till all the meat is coated. Keep aside to marinate for an hour.
After an hour, put the above mixture into pressure cooker and set up to cook on a medium flame. Do not add little water and cook till the meat is tender.
In a separate small pan, heat the cooking oil on a medium flame till hot and add the chopped onions to it. Fry till transparent.
Add the curry leaves and mustard seeds and cook till they stop spluttering. Now add the coconut slivers. Cook till they begin to turn a pale golden color.
Add this tempering mixture to the meat and mix well. In medium flame stirring often, till the meat brown and dark brown in color. This dish traditionally has no gravy at all and is dry so if water is present, make sure to dry it off.