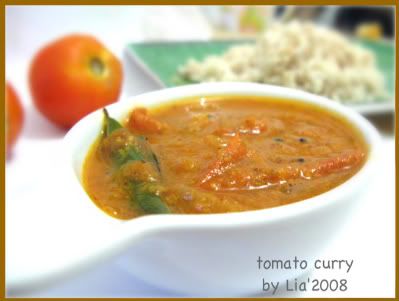 Spicy, savory and the sourness of the tomatos making the taste of this curry was perfect. I have no idea what to cook for our dinner last night, and i saw there was alot of tomatos in my fridge, is really perfect combination with rice. I used brown rice instead jasmine rice. My hubby he enjoyed the dinner, its an reward for me if i could serve something which is make him appetite ;)
-tomatoes 250 gr, chunk
-coconut shreded, fry without oil until brown colour ( i used aprox 4 spoon)
-curry leaves 1 spring
-small onion 5, choped
-big onion 1, choped
-dry red chily 3
-ginger choped 1 tsp
-turmeric powder 1/4 tsp
-chili powder 1 tsp
-coriander powder 1 tsp
1. Grind fried coconut shreded with turmeric pow, chili pow and coriander pow and added same water to make a paste.
2. Bring to boil the paste and tomato chunk, add small onion and ginger.
3. Stir and make a thick curry. add water if you feel required
4. In another pot heat oil then add mustard seed, fry the big onion until fragrant then add few spring of curry leaves and dry chili.
5. Mix the onion fry with the curry and let it boil for one more time
6. Serve with rice