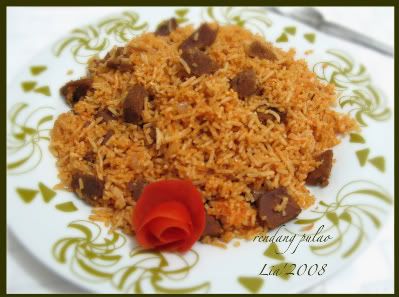 I made beef rendang few days back, it was still left over in the fridge. We started get bored to eat. I got an idea to prepare simple pulao with the left over rendang. Amazing just need couple minute you can prepare easy dinner, finally my rendang has over now :D Serve with cucumber and lettuce salad, yum!
-cook basmati rice 2 cup
-beef rendang, slice the beef into small cubes
-ghee 2 tsp or you can use oil
-onion 1 big size, chopped
-1 tsp chili powder
-salt as required
Heat oil in the pan then fry onioon until brown and stir well. Add rendang slices and chili powder. Stir for 5 min until onion and rendang mixed well. add rice and seasoning with salt, be careful added salt since rendang already have salt.
serve hot.
Here is rendang recipe :http://spices-corner.blogspot.com/2006/11/rendang-indonesian-beef-curry