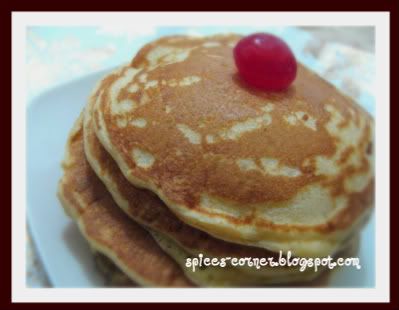 As usual iam searching recipe from all recipe, really iam enjoying making this pancake, the pancake extremely fluffy, tasty and delicious even i ate them in the next day, well recommended. If you doesn't like to "eggy" reduced the amount of the egg.
source: all recipe
INGREDIENTS
1 cup all-purpose flour
1 tablespoon baking powder
1 cup milk
3 egg yolks
3 egg whites
DIRECTIONS
In a medium bowl, combine flour and baking powder. Stir in milk and egg yolk until smooth.
In a large glass or metal mixing bowl, beat egg whites until stiff peaks form. Fold 1/3 of the whites into the batter, then quickly fold in remaining whites until no streaks remain.
Heat a lightly oiled griddle or frying pan over medium high heat. Pour or scoop the batter onto the griddle, using approximately 1/4 cup for each pancake. Cook until pancakes are golden brown on both sides; serve hot with jam or maple syrup